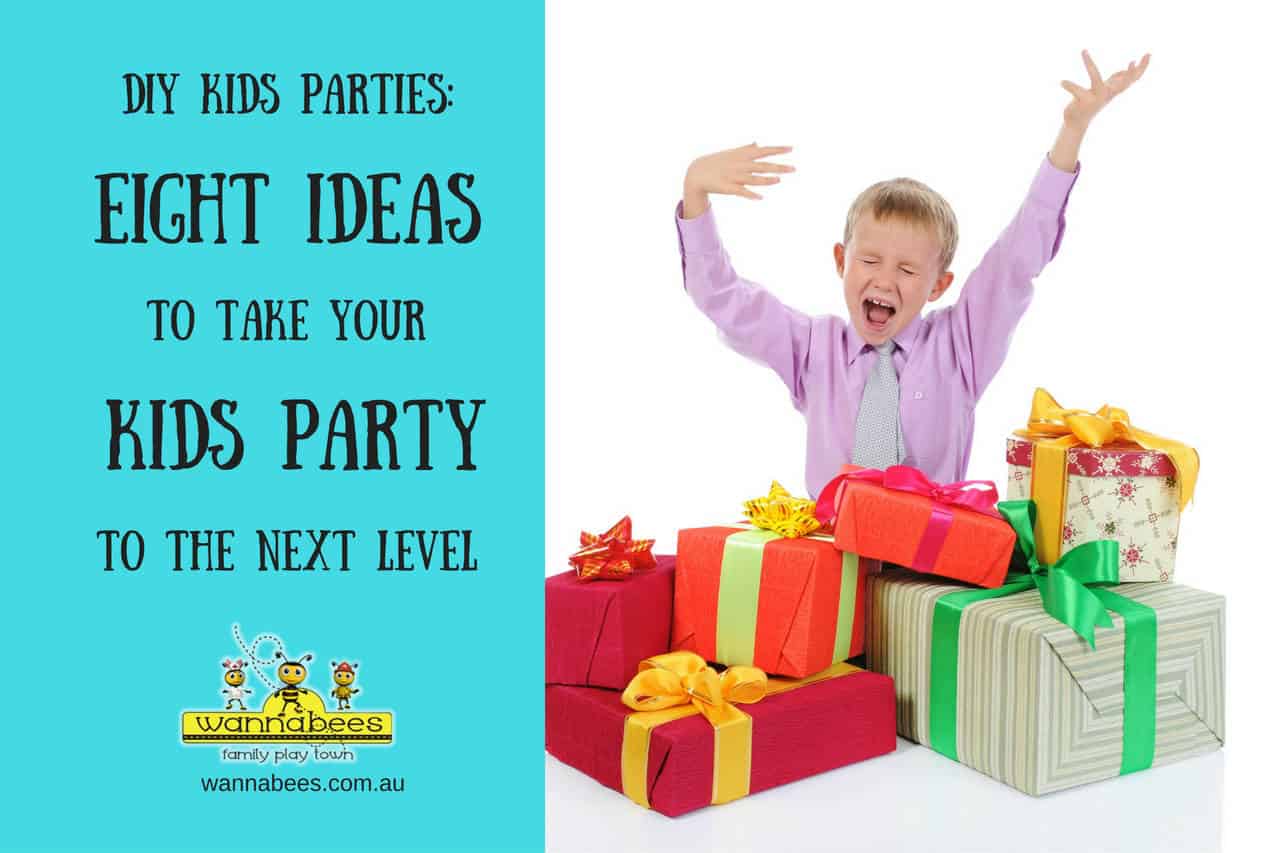 DIY Kids Parties
One of the main concerns of many people organising DIY kids parties is how to make them fun, unique and memorable.
Party planning is an essential part of a successful and awesome kids birthday party.
Attention to detail is required to ensure your guests and you enjoy a memorable event. From selecting the right time of the day and date to thank you cards, you need to ensure every element is properly planned and executed.
On this article we will give you some tips that will help you take the average DIY kids parties to the next level.
Before The Party
Budget
It is important for you to know upfront how much are you willing to spend for the party. Keep in mind that the more you spend doesn't necessarily mean a memorable party. Sometimes low cost parties end up being the most memorable ones for your kids. A good reference for you is to budget between $35 to $40 per child. This cost tends to go down as the number of kids increases up to around 20 – 25 children. After that it goes up considerably to around $50 per child.
Right Date
Whenever possible pick a date that is close to your child's birthday. Give yourself at least four to six weeks to organise the whole thing.
It is very important to ask some of the other mums if someone else is organising any other party on same date you picked. Last thing you want is getting your guest in the uncomfortable position of having to pick between two parties to attend.
Also try not to organise parties during long weekends or on sport days so you ensure most people can attend.
Right Theme
Themed Kids Birthday Parties are not only an excellent option but they can help you to organise all event details better. Pick a theme your child feels comfortable with. Something predesigned like (princess, pirates, superheroes, etc) or perhaps a more particular theme like cooking, construction or crafts. Just remember that the idea is to create the right atmosphere, so it becomes a memorable event on your child's life.
Venue Choice
Selecting the right venue is very important when organising DIY kids parties. Should you host it at home? Outdoors? A community hall? Outsource it? To answer this question it is very important to consider your child's age. Generally speaking, parents with children turning 1 or 2 y.o, think about safety first. Young kids need to feel comfortable in the venue, so they can enjoy the party.
Always ask yourself: Is this venue the most cost effective and practical one to have the best party ever? Also when deciding on the venue, don't forget the cleaning and tidy up after the party.
Outsourcing the event to kids birthday party venues like Wannabees Family Play Town is always a good choice. Their parties are all inclusive, so the only thing you need to do is book the party, turn up on the day and have the best time ever.
Party Day

Entertainment
Entertaining a group of kids is not easy. But if you have the patience and skills to do it, there are several games you can organise to keep kids busy until cake time. You can find some ideas on our post: "Top Five Birthday Party Activities For Under 5s".
You can always hire a professional Children Birthday Party Entertainer. There are some many options to choose from: clowns, fairies, superheroes, magicians, etc. Best part is that they will keep the kids busy, so you can focus on making sure every other details goes as planned. When you outsource the party to a party venue like Wannabees, entertainment is included and won't leave you out of pocket.
Decorations
Decorations are very important to create the right atmosphere. Make sure it matches the party theme you've selected. You don't need to go overboard with this.
Your local party shop or even supermarkets, sell party packs with all you need to create the perfect ambience. From tableware to bunting, balloons and lollybags you can find anything you can imagine.
Birthday Cake and Party Food
Creating the ideal menu for kids is not that difficult. The secret for a memorable party is how well presented and decorated food and cake are. Following the party theme is always the best choice.
If you decide to bake the cake yourself, we have some good tips and recipes that can give you some inspiration. "Three Easy Recipes To Bake Awesome Kids Birthday Cakes" and "10 Tips For The Most Wonderful Birthday Cakes Ever".
Time and Duration
Most kids birthday parties go for two hours, but this should be in line to how old the kids are. As a general rule younger kids have shorter attention spans, hence parties should run for 1 to 1.5 hours. Older kids can go easily for two hours or more. It is also important to consider the time of the day. If children still do nap time, it is better to organise parties around 10 am or afternoon time around 3pm.
For more tips on DIY Kids Parties check our post: "5 Easy Kids Birthday Party Tips You Should Know".
Your Turn
DIY kids parties are a very rewarding experience for parents and kids alike when all goes as planned. But always remember that you have the choice to find professional help to take the pressure off you. At Wannabees we have a team of party planners that will help you along the way to create the best kids birthday parties ever. For more details